Worth Following in 2019
5 Meridian Campus Real Estate Trends to Watch
When it Comes to Real Estate Statistics, the Golden Rule is Still LOCATION, LOCATION, LOCATION!
Its easy to be led astray when it comes to real estate market trends and forecasting. Much of our opinion is derived from national media reporting which fails to adequately account for hyper-local variables. We can gain valuable insights from tracking national trends, but when it comes to determining the value of homes in Meridian Campus, or making an educated purchase in the neighborhood, we should put far more focus on local trends.
To help with that, we have put together 5 different data sets for you to keep an eye on. These charts and figures are all from data provided by the Northwest MLS database. While this is a great, reliable resource for sales data, there can occasionally be errors in reported data or mapping. In other words, this is a great tool but, like most things, it has its limitations and imperfections. On the bright side, these charts are automatically updated as new data is available. So, no matter when you come across this article, there should be current information on display.
Now, without further adieu, let us examine the 5 Meridian Campus real estate trends that you really should be following…
1. Median Sales Price in Meridian Campus
Median sales price is one of the most commonly cited statistics in the world of real estate. For those who are not statistically inclined, "median" just means "in the middle". When it comes to home prices, it means half of the sales that occurred were for a lower price and half of the sales were for a higher price. We use median prices in real estate analyses because it eliminates the ability of an abnormally high or low sales price to distort the data. As long as we have a large enough sample size, median should be a good representation of the middle of the market.
The chart above shows you the median sales price in Meridian Campus over the past 3 years. Each data point represents a rolling 12 month period. Tracking this chart can help to show a general strengthening or weakening of the market.
*Local Spin*
One factor that has heavily influenced median prices in Meridian Campus is new construction. Builder pricing has fueled the rise of median prices between 2015-2018. This chart will be worth tracking over the coming years as new construction winds down and the neighborhood begins to see more turnover from homeowners who bought these new homes.
2. Price Per Square Foot in Meridian Campus
Another great way to figure out how local sales trends impact your home's value is to examine the median price per square foot for recent sales. This data gives you an easy starting point that can be scaled to match your own property's characteristics.
The chart above shows you the median price per square foot for home sales in Meridian Campus over the past 3 years. Each data point represents a rolling 12 month period. Tracking this chart can help to show a general strengthening or weakening of the market.
*LOCAL SPIN*
A few additional factors are important to consider when using price per square foot. First, single story homes typically carry a higher value per square foot than 2 story homes. Secondly, when determining a home's value the median price per square foot for neighborhood sales provides a good starting point, but factors such as upgraded materials or desirability of your lot need to also be factored in. We can help you determine which features of your home you should be taking in to consideration when tracking your value, just contact us!
3. Number of New Listings Added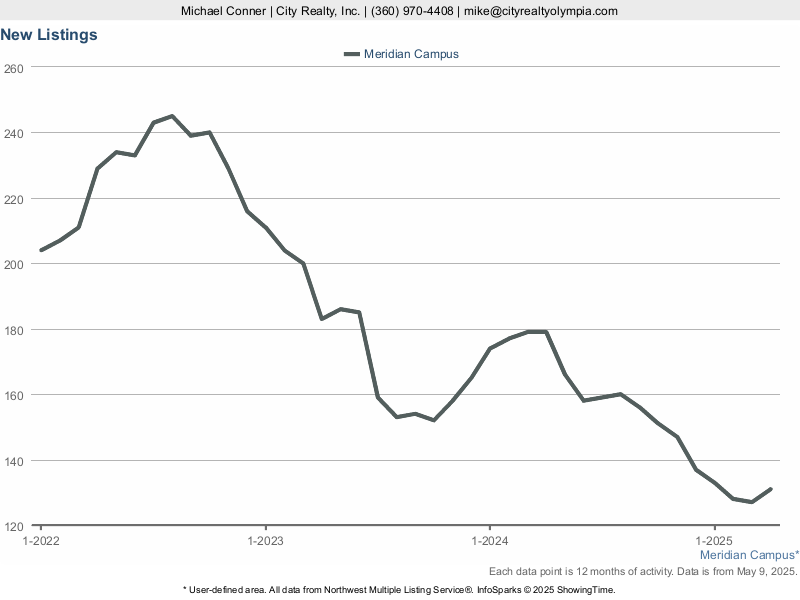 Supply and demand are the most easily understood metric when it comes to economic analysis. If supply outpaces demand, prices should fall. If demand outpaces supply, prices should rise. The scarcity or abundance of a product plays a major role in determining the price for that product. Obviously there are many other factors to consider when analyzing real estate trends, but a great starting point is always analyzing the supply of homes available on the market. Low supply can be a result of a high demand market, or it can be indicative of other economic concerns that cause fewer homeowners to want to sell their home. 
*Local Spin*
Meridian Campus has seen a steadily shrinking supply of homes available on the market. A big reason for this has been the huge increase in buyer demand. Factors like low mortgage interest rates, affordability for buyers who have been priced out of other markets, ease of access for commuters, and the continued visibility of the neighborhood due to new construction marketing have all contributed to this shrinking supply of homes for sale. This chart shows the number of new listings hitting the market each month has remained fairly steady. However, as we'll see in the next 2 charts, those homes are selling at a very rapid rate.
4. Number of Days on the Market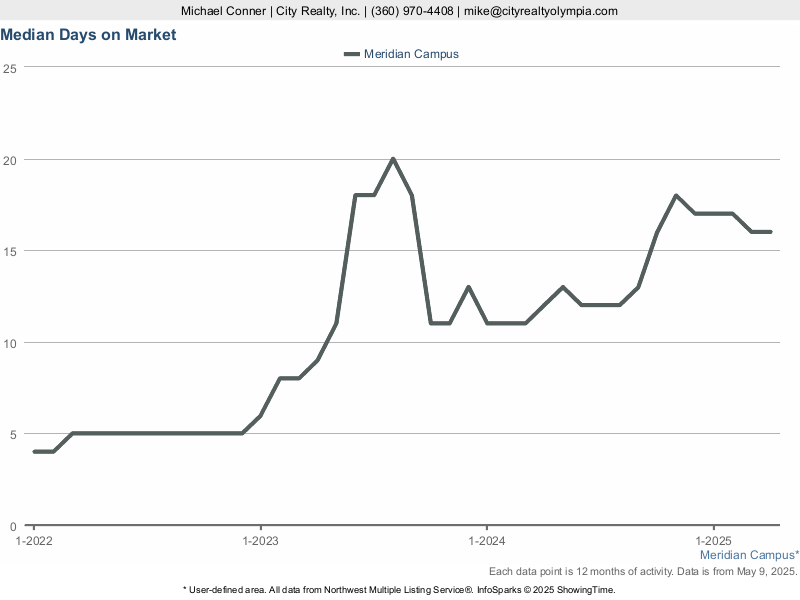 Now that we've looked at market supply, a good next step is to get a feel for demand. One way to do this is to look at how long homes are sitting on the market. In over-supplied markets, homes tend to sit for longer periods of time whereas in under-supplied markets the time is typically much shorter. Analyzing the number of days on the market homes tend to sit can help determine whether a shortage of supply is being caused by high demand or if other economic conditions are causing the shortage.
*LOCAL TIP*
Median market time in Meridian Campus has been under 30 days from May 2017 to the time of this article (Feb 2019). In fact, the median days on the market never reached over 14 days in all of 2018! These are historically low numbers, indicative of our high demand market conditions in the area over the past few years.
5. Number of Pending Sales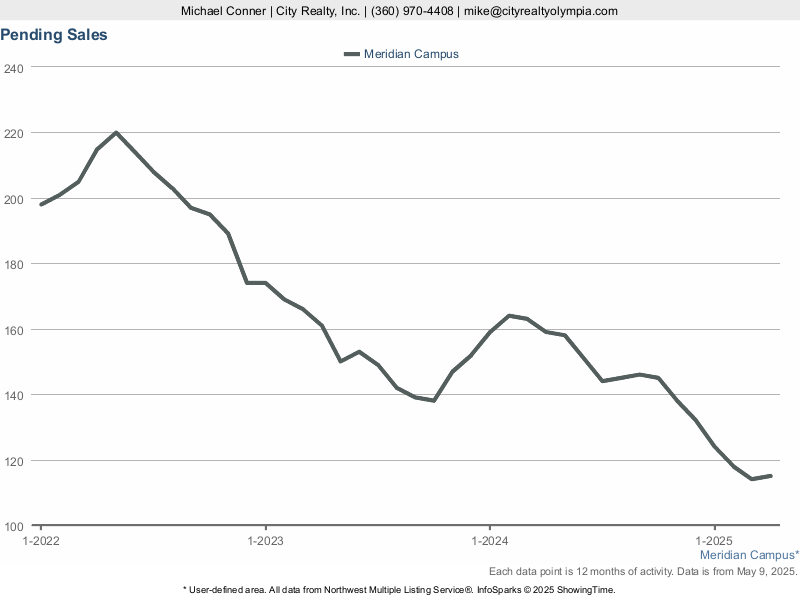 Looking at the number of current pending sales gives us an indication of current demand. If we see far more new listings hitting the market each month than new pending sales then we know that the market may be showing signs of slowing, and prices will likely begin to fall. If we see pending sales meeting or exceeding the number of new listings then we know the supply is not meeting the demand and we can expect prices to begin to rise. 
*LOCAL TIP*
If you refer back to the chart in #3 above you'll see that the number of new pending sales is very similar to the number of new listings added over the past few years. Combine this with the evidence we see in #4 above and we can fairly easily identify that Meridian Campus has seen high demand, shrinking supply, and rising prices in recent years. How long will this continue? Well, that crystal ball has remained elusive…but you now have some great data points to examine to help you make your own predictions.
We Want to Sell Your House!
See What We Can Do For You
When the time comes to sell your home, we would love the opportunity to earn your business and show you Testosterone Booster – Prime Male Testosterone Booster Ingredients analogen acheter testosterone propionate en france, achat steroide pologne – xg6vg2n : startpagina: luen443 how we utilize cutting-edge technology to get the job done.